Seeking a Chair TIGHT DEADLINE!
by
Spectra Arts CIC
Spectra is a small, ambitious, radically inclusive, neurodiverse, multi-arts company. As we prepare to join the Arts Council's National Portfolio in April 2023, we seek a Chair to help scaffold our reflective growth through dynamic governance.

WE'D LOVE TO HEAR FROM YOU IF THE FOLLOWING APPLY:
- You care about radical inclusion and diversity and deeply believe that the arts can affect change
- You have experience of managing effective and impactful meetings and of being on a Board (you do not have to have been a Chair before)
- You can commit the necessary time to provide strategic leadership, challenge, and support for the Board and executive; to assist in reporting to the Arts Council; and to act as an advocate for Spectra
- You want to share in the intensity, fun and delight that comes with being part of Spectra's work.

A full role description for this voluntary post is available at https://wearespectra.co.uk/2022/11/22/chair.

We eagerly encourage applications from people who are from backgrounds that have thus far been underrepresented in publicly funded culture. We are committed to creating a working space that is safe and caring for all.

The application closing date is Monday 9 January at 9am. The new Chair will attend their first meeting on 3 February 2023.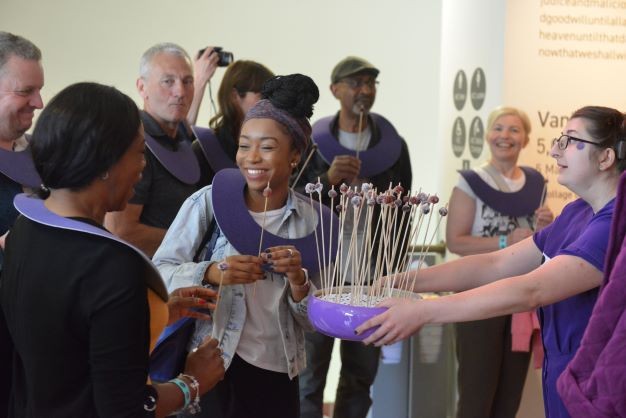 Organisation description
Spectra is a radically inclusive, neurodiverse, multi-arts company.
Accessibility
Please contact us to discuss any access requirements
Preferred skills
A full person specification is available on our website. We are looking for someone who will do the following:
- Hold the Board and Executive Team to account for Spectra's Mission and Vision
- Provide strategic and inclusive leadership for the Board, ensuring that Spectra is effectively governed and that each Board Member fulfils their duties and responsibilities
- Ensure that the Board functions as a unit and works closely with the Senior Management Team to achieve agreed objectives
- Work within Spectra's agreed policies
Experience gained
There are a range of skills our Chair could gain dependent on what would complement the skills they bring to the work, eg if they come from outside the arts sector we have much to offer in terms of creativity; if they come from inside the arts sector, we have much to offer in terms of inclusion. An informal chat might help to highlight what we have to offer individuals.
Will the organisation carry out a DBS check?
No
Minimum age
18+
Age focus
Time of volunteering
Weekdays
Daytime
Weekends
Categories
Mainly indoors
To learn new skills and improve my job prospects
To share my skills and creativity
To be a trustee or help on a committee