Become a Community Ambassador and change children's lives
by
Barnardo's
At Barnardo's we're looking for volunteers to join our UK-wide network of Community Ambassadors. Community Ambassadors are trained volunteers who deliver inspiring talks and workshops in their local communities, to raise awareness of the importance of believing in all children, regardless of who they are and what they have been through.
Barnardo's ambition is to provide the best outcome for every child. In these challenging times, we believe there are more children suffering in silence than ever. And this is why we need you.
By becoming a Community Ambassador, you will be the face of Barnardo's in your local community, and help us raise awareness of our life-changing work.
Our Community Ambassadors engage people about the vital work of Barnardo's, inspiring them to take action, as they speak with schools, universities, businesses, youth groups, religious places of worship, service organisations, and many more community groups.
A big part of the role is carrying out research into community groups, schools and businesses in your area so that you can contact them to offer your services as a speaker. Through your talks, you will engage and inspire support for Barnardo's, and encourage involvement in our fundraising initiatives.
If you're interested in this opportunity, please apply directly on the Barnardo's website, by following this link: https://www.barnardos.org.uk/community-ambassador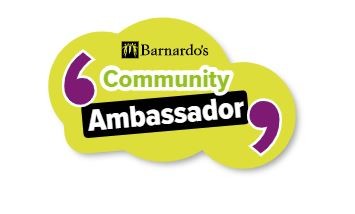 Organisation description
At Barnardo's we believe in children, regardless of who they are, what they have done, or what they have been
through. We protect, support and nurture the UK's most vulnerable children, via our 800+ services across the UK. We don't abandon children because of who they are or what they've done. We listen to them, fight for their
rights and do whatever it takes to protect and support them – because we believe that all children have the right to a happy and healthy life. At a time when more young people need specialist help with complex issues like
sexual abuse, mental health problems and serious violence, our work is more vital than ever.
Accessibility
Please contact us to discuss any access requirements
Preferred skills
We are looking for volunteers to share their research, public speaking and networking skills
Experience gained
• experience of working with children, young people and families;
• experience for your CV;
• experience supporting your local community;
• increasing self-confidence;
• feeling like you are making a difference;
• improving your health and wellbeing;
• a chance to contribute to a worthwhile children's charity
Will the organisation carry out a DBS check?
No
Minimum age
18+
Age focus
Primary School children
Secondary school age young people
Young adults
Adults
Time of volunteering
Weekdays
Weekends
Daytime
Evenings
Categories
Mainly indoors
To learn new skills and improve my job prospects
To share my skills and creativity